About Mélanie Bastien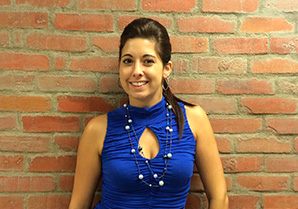 "My career is my true passion." - Mélanie
Mélanie Bastien has been with CSM since 2015. She stumbled upon a career in the car industry in September 2010. After her DEC in hotel management, she realized that she didn't wish to pursue her career in that field. Thus began a search that eventually led her to her job at CSM as a sales and car financing manager.
"I looked at the placement ads in the local newspaper and was interested by a receptionist job at Volkswagen ... My career in the car industry began there. I had since the opportunity to hold different functions at various dealerships: delivery and recovery coordinator, administrative assistant."
All along, her main interest slowly emerged in holding a financial manager position. In January 2015, she began her Summum training to become a financial manager and CSM decided then and there to give her a chance. Mélanie loves challenges and helping people. She gladly shares that her job at CSM Financial Services is a happy blend of personal challenges while helping people reestablish their credit and get a car. "I know I want a career as a sales and financing consultant; it is my true passion."
Her determination, her honesty and her listening skills align with the company's vision: "Since working at CSM, I dream almost every night about taking care of my clients. I love what I do".
She knows that CSM is a one of a kind company because the whole team shares the same goal: helping clients with their credit whether to build it from scratch or to restore it! "We are honest, we do not pressure our clients, we help them take their time, we analyze their situation, we look at their credit history and we make sure all is in order before presenting anything to a financial institution. We also make sure they get the best deals. We are dedicated and hard-working."
Here are her advices for anybody looking for a car loan:
1- Make sure to go to a dealership that knows how credit works so to properly present your situation to a financial institution;
2- Make sure to choose a dealership that you can trust and that will divulge all needed information;
3- Finally, choose a dealership that won't judge you and that will be professional regardless of your financial situation.
Do not hesitate to contact Mélanie and see for yourself how she can help!